Wiley food and bioenergy facility specialists recently attended 'Bioenergy Strong 2018 Conference', in Brisbane, Queensland. A key focus of the conference was the future of Australia's bio-economy. Conference sessions included how Australia compares to the rest of the world in this field, what barriers and challenges there are to preventing growth, and how we can accelerate Australia's bio-economy.
Supporting one of our company's values of 'Future Focus', a few of our specialists were on hand to explore the conference and report on their findings. Attending were Heath Barker (Wiley Senior Project Engineer and Bioenergy specialist), Brandon Miller (Wiley Chief Strategy Officer-Innovation and Strategy), Josh Jeffrey (Wiley Project Manager), Ade Ariantika (Wiley Project Engineer), Ryan Harvey (Technology & Innovation Coordinator) and Nat Bingham, (Senior Project Engineer). Also attending was our project energy partner, Samantha Lamond (Chief Executive Officer) of Energy360.
We love sharing our learnings with our network, to help us all reach peak performance and ensure our global food security into the future. Wiley's Heath Barker and Ryan Harvey who attended the conference share their highlights here.
Heath Barker 's recap:
"To begin with, we listened to some great speakers talking about their Bioenergy projects, which were either completed, or currently in construction.
MSF Sugar have $300M set committed to major sustainable projects including a huge 24MW electricity generation plant for grid feed in. This will allow their plant that operates 6 month a year to then generate electricity for the off-season. They have huge plans and they see great innovations in bio-products like bio-plastics in the next 15 years.
MSR Milling are about to bring a 5MW biofuel boiler online that was 40% Arena funded. This was a necessity because of their limited fuel availability (natural gas is expensive, and coal is a backwards step).
Virgin Australia have achieved an exciting first for Australia: Late August 2018, Brisbane Airport introduced a small portion of blended sustainable fuel. This has opened a pathway for others to follow.
Altus Renewables have had a lot of ups and downs over the last five years in their goal to produce 125 million tonnes of sustainable wood pellets a year. The only way they have succeeded is through international investment and supply agreements.
It was surprising to find out that it would be more expensive to supply their product to a local power plant than to Denmark! "
"Later in the afternoon there was discussion around Bioenergy Hubs. In the last few years, there has been a great deal of time and work invested into Bioenergy Hubs throughout Australia. These hubs offer a huge benefit to communities, bringing sustainability, energy security, jobs and income to regional areas.
Many business people, local councils and state governments have spoken on this development at the Conference. Our team at Wiley have been talking to a number of these people, and others, about this very real opportunity for Australia.
Also, there is an enormous 220PJ of energy available from Australia's biofuel sources. This presents vast potential, but interestingly, there hasn't been much growth of this source over the years.
There was talk around 'diverting landfill to make energy and valuable products'. The new landfill levy is an exciting shift for Queensland. The purpose of this levy is to replace the process of dumping rubbish 'into a hole', with a highly-technical processing facility.
This approach reduces Queensland's landfill significantly and increases economic opportunities for the local waste industry, in terms of investment and employment.
However, the proposed $70/t, due in March 2018, may not be enough to tip the scales for waste-to-energy to be fully-viable. Companies that work in this waste-to-energy industry, believe that $90/t or more, would help drive positive change further.
The final speaker of the conference from Hyne Timber shared that 1,731 tonnes of Hyne Timber's treated pine off-cuts are classed as regulated waste in Queensland. This means that it needs to go to landfill and cannot be used as renewable fuel. This is because, in the past, the treatment product included toxics such as arsenic. However, for many years, this has not been the case. In recent weeks, it was announced that, as of February 2019, this classification will be dropped. This is seen as a positive step in the right direction." Shared Heath.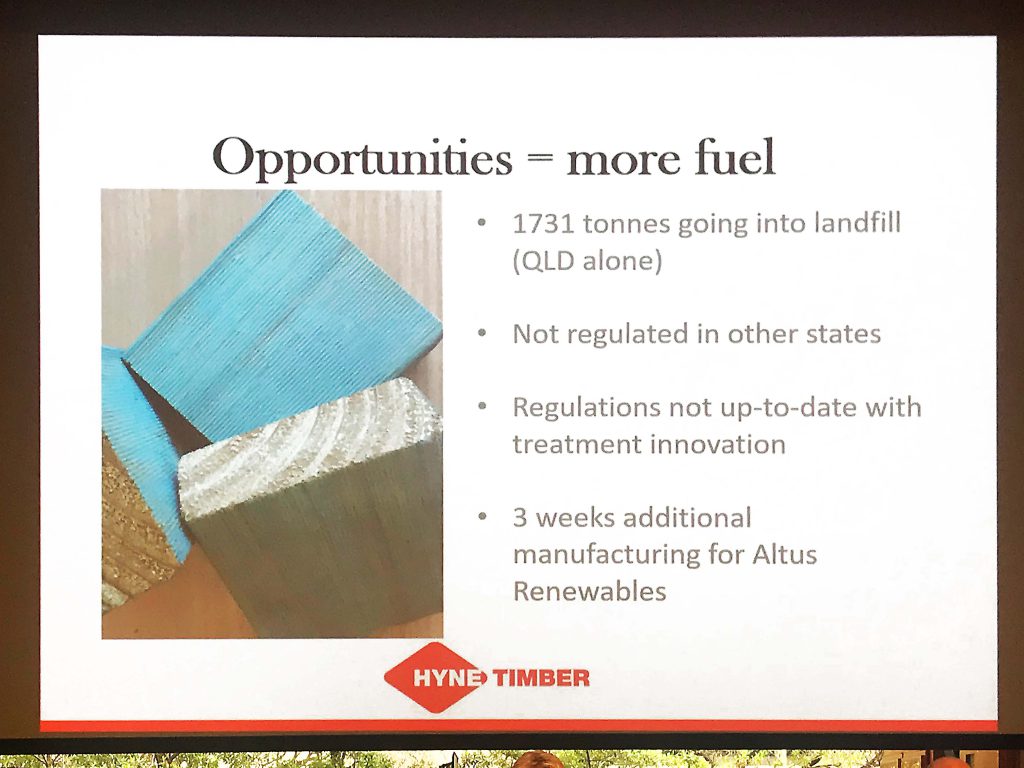 Ryan Harvey was most taken by the concept of Death Valley. Here he explains:
"An important question posed was; "How much do you know about crossing the commercialisation valley of death—improving the commercialisation of research?"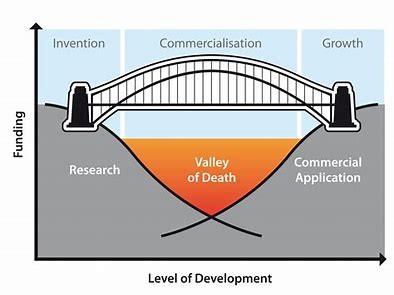 There exists the concept of 'a valley of death', which sits between research/ prototype and commercial application/ pilot scale. The valley of death prevents science progressing from the laboratory bench, to the point where it provides the basis of a commercially-successful business or product.
Australia has greater feedstock quantities than other regions. Technology has developed, and global trends are merging towards sustainable biofuels. To understand the global transition towards the circular economy, one only must look at the moves between the EU and China to help develop a circular economy." Said Ryan.
Heath concludes, "Throughout the conference several speakers were asked the same question; 'are we at a point of standardisation? In five years are we going to look back and say is this the year that everything kicked off?' And the answer was a unanimous yes. This is super exciting for me to hear because this will make a huge impact on the sustainability and impact on the environment of the future."