Heinz Golden Circle Aseptic Packaging Plant
| | |
| --- | --- |
| Client: | HJ Heinz |
| Location: | Northgate, Queensland, Australia |
| Scope overview: | Upgrade an existing facility without sacrificing the ongoing operating levels of the site. |
| Facility: | Northgate facility and a new mixing facility |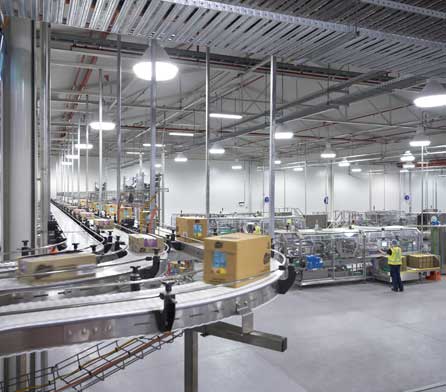 Project Description
Site upgrades bring fresh look and new levels of efficiency for Heinz operation
CLIENT
HJ Heinz is one of the world's leading food companies with a host of household brands and products including Golden Circle.
Golden Circle is one of Australia's most recognised food companies and a leading supplier of quality fruit, vegetable & juice products to Australian families.
OBJECTIVES
In 2008, Heinz purchased Golden Circle in Australia and subsequently engaged Wiley to provide site planning services.
A brownfield project was planned incorporating the design and construction of a series of upgrades to one of the clients existing facilities, located at Northgate without sacrificing the ongoing operating levels of the site.
These upgrades, including a new mixing facility, brought the building in line with the requirements for the installation of the new Aseptic filling equipment and packaging lines.
Wiley not only project managed, designed and constructed the building renovation, they also contracted the design and installation of the new mixing facility. Wiley project managed and site supervised the client's equipment suppliers to ensure timelines and installation standards were maintained.
CHALLENGES
Tight construction and installation timeline, due to fixed equipment and operation start date.
Integrated style project delivery, with process design continuing during construction.
Integration of construction and operating factory – client's forklifts delivered raw materials to operating areas via the construction zone.
Tight budget constraints
Asbestos management
SOLUTIONS
Advice
Reduction in costs
Hygienic design of buildings and processes
Services capabilities
Decommissioning of existing plant
Forklift paths planned and mapped out daily
Real time financial management, allowing Golden Circle to increase scope of works without the need to revisit Cap Ex due to project cost savings.
Brownfield risks and issues were solved by engineering out or providing alternative solutions.
Design
Design an acceptable finish to the ceiling of the packaging area and at the same time containing the asbestos roofing material above.
Asbestos was decontaminated, sealed and encased with minimal impact on existing operation.
Engineering
Modification of existing structure and services to meet the requirements of the new facility.
Upgrade of all necessary services –

Steam
Compressed air
Soft water
Electrical
Condensate return
Construction
Stainless steel drainage installed to resist temperature and chemicals.
Gantry space was restricted requiring a high level of coordination between construction and equipment services.
Merging the old with the new to achieve acceptable visual hygienic finish of the production facility.
Wiley was the central point of all trade coordination, construction, process services, equipment supply and installation, thus streamlining the construction process.
Collaborative approach between Golden Circle & Wiley to achieve optimal result.
RESULTS
Wiley delivered a fresh, well-lit and modern facility that met the clients Good Manufacturing Practice (GMP) requirements and merged it seamlessly within an older existing building.
The construction, installation and commissioning of this facility achieved the zero incident requirement set by the client.
This upgrade to current GMP standards with new equipment allows increased efficiencies and ROI's and has future expansion capabilities within the design.